Eagles Autism Foundation and Eagles Autism Challenge
Help us create a transformational impact for families affected by autism. Support team Spread Love!
We're on a company-wide mission to contribute to The Eagles Autism Foundation and spur participation for The Eagles Autism Challenge.
Our COO, Brooks Tanner, says it best: "We're in the people business, not the bagel business." This notion gets put into action through the heart-felt hospitality and elevated customer service that we provide to our guests seven days a week in our stores, but there are other ways that our company can also make an impact in the lives of others in the communities that we serve and around the world. About one in 44 children has been identified with autism spectrum disorder according to estimates from the CDC. While there is no medical detection or cure for autism, its numbers continue to grow at an alarming rate and is 4 times more common among boys than among girls. Unfortunately, autism has been historically underfunded, under-researched and commonly misunderstood.
This year, we're mobilizing a team benefiting a worthy cause.
We have embarked on a journey to raise awareness and very-much-needed funds benefiting the Eagles Autism Foundation. A non-profit organization created by Eagles Chairman/CEO, Jeffrey Lurie. What started as Mr. Lurie's personal mission, inspired by autism in his own family, has expanded exponentially around the world, giving a voice and a platform to those who may have previously been overlooked. Now you have a chance to help us build hope for the future as our fundraising goal is $50,000 and we are determined to reach that by the May 31st deadline. Through research, advocacy, empathy, and unity the Eagles' biggest strength is bringing people together, so they're inviting the world to join them. And together, we can all make an impact that echoes in every neighborhood across the world. The most important thing to know is that every single dollar is invested in the community. Every. Single. Dollar. Here's a recap of the 2022 Eagles Autism Challenge in case you're not familiar with this epic event.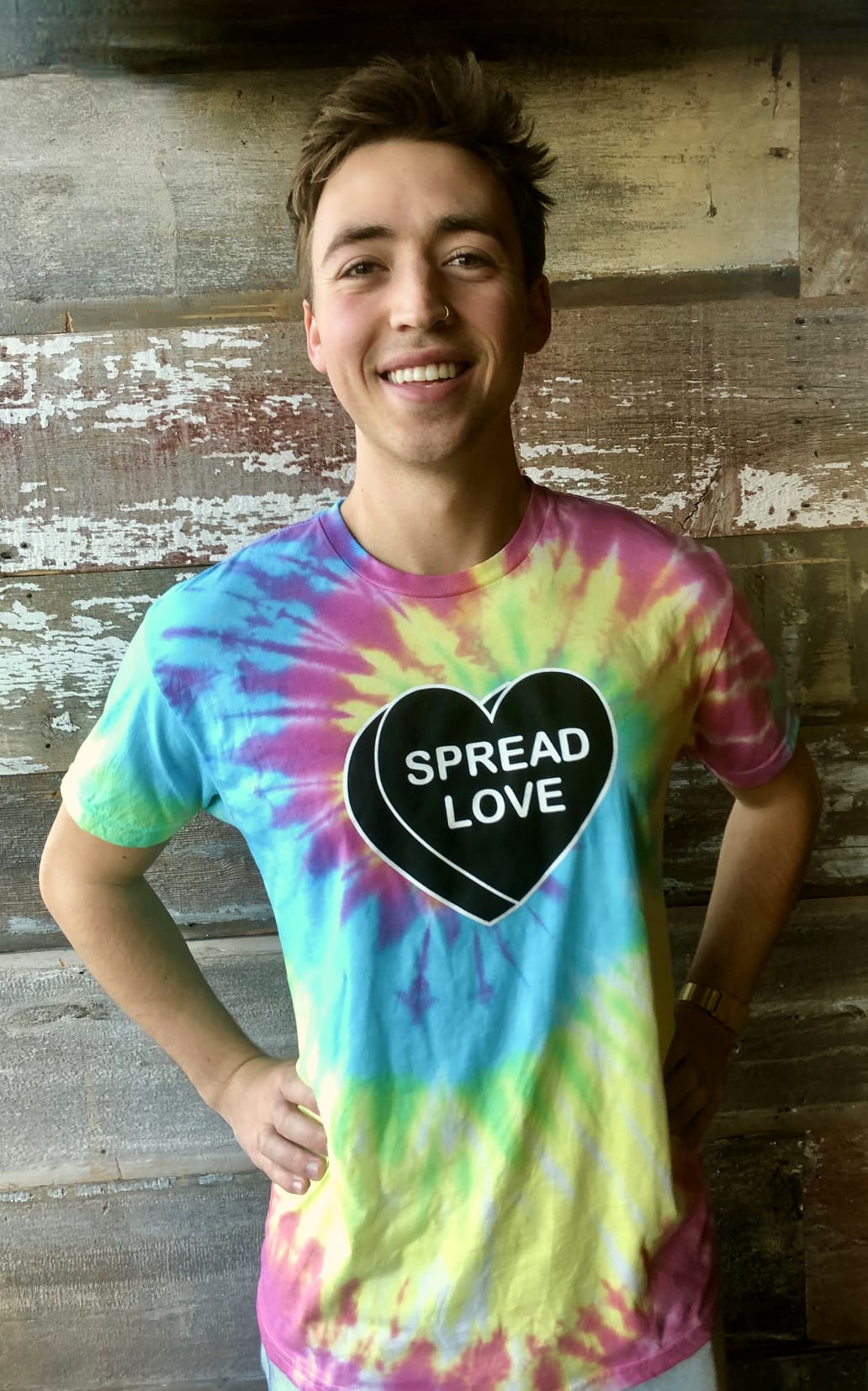 There are several ways that you can help us.
You can join team Spread Love for The Eagles Autism Challenge. It's easy. When you join team SPREAD LOVE, you'll receive an official team SPREAD LOVE T-shirt featuring artwork from Amberella. It's a limited edition, super soft tie-dye design that retails for $30 in our stores and online. Please note that you must raise a minimum of $350 when you join team Spread Love. We've opted for the 5k Run/Walk and then join The Eagles for a post-race celebration on the 50-yard line at Lincoln Financial Field. Join Philadelphia Eagles players, alumni, coaches, cheerleaders, and SWOOP! Here's more information about the 5K Run/Walk.
When you register, you'll automatically get access to fun Friday Kick-Off Party and Saturday Finish Line Celebration on the field, free food, and beverage on both days, a FreedomPay 5K T-Shirt, a "Finisher's medal" and a complimentary gift bag. Don't forget to use promo code Spreadlove23 and save 50% on the cost of registration (normally $50.)
Register Now
Simply donate what you're able to team SPREAD LOVE.
You can donate to our team as a whole or select a specific person within our team by clicking here. You can also elect to make your donation in honor or in memory of someone. No amount is too small or too big!
Additionally, you can visit any Spread Bagelry on Giving Tuesday (November 29, 2022), and also on the following six Eagles Game Days below.
Show your team spirit, wear your Eagles garb! Treat yourself to a hearty game day breakfast or fuel up for lunch and we'll donate a portion of the proceeds directly to The Eagles Autism Foundation for that day.
Game Days:
December: 11th, 18th, 24th | January: 1st and 8th
Donate Now
Shirts, Social, and Success!
Purchase one or more of our limited-edition SPREAD LOVE T-shirts in our stores or online starting on December 12th. All proceeds will go directly to the Eagles Autism Foundation. They're soft, fun, and well, it just feels good knowing your money is going to a very important cause, right?
Spread the Word on Social! Follow us on IG, Facebook, and TikTok for the latest updates on our progress and special surprises! Share Spread's Eagles Autism Challenge Day Team Page on your platforms. Click here to share
Measuring the success of this campaign doesn't just come in dollars. If we can create a further understanding of autism, we've done our part. It begins with a collective understanding, a desire to self-educate and to help others cope with challenges big and small.